Note
A community-sponsored advertisement-free tech blog. Join the revolution of making the web ad-free by
supporting me
.
Last updated on August 18th, 2017
Most of us like to play games that require a lot of thinking in terms of strategy and tactics. However, it's an entirely different story when we talk about turn-based strategy games. Not only you need to be a good thinker but also you need to have patience, utmost concentration and play your moves step by step to always remain ahead of your opponents.
There are way too many such types of games out there. Hence, for your comfort, we compiled up a list of best turn-based strategy games which you might like.
Best Turn-Based Strategy Games
Before we begin with our list of best-turn-based strategy games, we would like to say that, it's just a random list. Please do not be confused by our serialized order of best turn-based strategy games.
1. SteamWorld Heist
Image & Form and published by Nintendo, SteamWorld Heist, is a 2D side-scrolling turn-based strategy game. It's the third title in the SteamWorld franchise. You will play as a pirate, namely Captain Piper Faraday. Embark on an epic adventure with your ragged mecha-robots to invade and loot different spaceships.
Throughout the game, your job is to recruit units for your crew in order to facilitate powerful and tactical invasion on enemy spaceships.
By earning credits and XP, you can customize/upgrade the weapons and gear of your entire crew. Doing so, you can match up with the level of enemy robots as you progress. In fact, you also have the ability to make tactical shots to take down the targets as the bullets bounce off the wall in a certain projectile.
If you're looking for a 2D-side scrolling adventure then SteamWorld Heist is probably one among the best turn-based strategy games for you.
Platforms: PS4, Xbox One, Wii U, PS Vita, Microsoft Windows, Mac OS, iOS, Linux, Nintendo 3DS
2. Banner Saga 2
The second installment in the franchise, Banner Saga 2 is one among the most beautiful and best turn-based strategy games ever created. You'll basically fall in love with its artistic style visuals. The game will hook you into its core mechanics based on tactical squad-based role-play.
Your choices will carry weight which means you've to be responsible for the actions of each and every unit in your squad. To give your characters a unique look and feel, you can customize them according to your own taste.
Developed by the indie studio Stoic and published by Versus Evil, Banner Saga 2 is a game you should be looking forward to.
Platforms: PS4, Windows, Xbox One, OS X
3. Age Of Wonders III
Developed and published by Triumph Studios, Age of Wonders III is the fourth installment in the series. Age of Wonders III basically features, 4X turn-based strategy gameplay. In the game you assume the role of a political leader, establish cities and raise armies to expand your empire through conquest or diplomacy.
The visuals will simply hook you into the game. Undoubtedly, Age of Wonders III is one among the best turn-based strategy games created so far.
Platforms: Windows, OS X, Linux
4. Stellaris
In for a sci-fi space turn-based strategy game? Then do consider adding Stellaris to your list of best turn-based strategy games. On a planet with a handful of ships, you embark on an adventure to create an empire in space itself.
Exploring the space, establishing colonies, engineering space stations, managing diplomatic and trade relations, conquering the space….oh boy! Sounds fun and challenging, isn't it?
You May Also Like – VyprVPN Review: Your Personal Stealth Assistant
It's entirely up to you which species you choose to expand your civilization in the game for each race having its own unique set of abilities and perspective. Published and developed by Paradox Inc., Stellaris is one among the most popular 4X (explore, expand, exploit and exterminate) turn-based strategy games of 2016.
Platforms: Windows, OS X, Linux
5. Valkyria Chronicles
Developed and published by Sega, Valkyria Chronicles is a story driven tactical turn-based game that will drive you nuts, all thanks to the incredible artistic 3D based visuals and unique gameplay mechanics.
The Valkyria Chronicles franchise has already seen the development of four titles. The reason we've included the 1st game in the series is mainly for the people who are unaware of the games of this beautiful award winning franchise. There is a manga and anime adaptation of Valkyrie Chronicles as well, which has gained widespread popularity for its fictional World-War based storyline.
Platforms: PC, PS3, PS4
6. XCOM 2
The sequel to XCOM: Enemy Unknown, is one hell of a squad based tactical gameplay. The game will immerse you deeply into its story-driven campaign, set 20 years after the events of the 1st title. You are the commander of a military organization, XCOM which has now become more of a resistance unit.
Your ultimate objective is to drive away the opposing alien forces that have taken over Earth, through a series of tactical missions. Alongside executing campaigns, you will also be in the charge of your mother base. Your base will be solely responsible for research and development. As a result, you can get gear and weapon upgrades for your soldiers.
Platforms: PS4, Xbox One, Windows, OS X, Linux
7. Crusader Kings II
Ever played any grand strategy games? Well to be frank those type of games will drive you crazy with their complicated gameplay system which might take some amount of time to master. Crusader Kings II is set during the Middle Ages.
In order to make it to the top not only you need to focus on building your infrastructure and army but also get involved in some dirty conspiracies. These conspiracies include plots against your very own brother, the imperfect heir to the throne, or it could be marriage for "benefits" along with a series of assassinations.
For its brilliant universe design and tactical gameplay system, Crusader Kings II could be one among the best turn-based strategy games for you.
Platforms: Windows, OS X, Linux
8. Elemental: Fallen Enchantress
By now, you must be familiar with all the 4X turn-based strategy games that we've discussed so far. Developed and published by Stardock, Elemental: Fallen Enchantress is something similar. You choose a race, build settlements, gather and build resources…you know the rest. So, what's unique about this strategy game?
You May Also Like – 20 Games Like Skyrim You Need To Play: Best Games Similar To Skyrim
The answer is magic. Along with military and civilization, researching on magic grants you with a unique magic spell that can be used for various purposes. Well, that's not all, as you would be getting lots of interesting in-game quests too.
The best part about Elemental: Fallen Enchantress is it's open source system, that supports NexusMods as well. The customizable workshop mode also allows you to create custom particle effects and spells to enrich your dynamic gameplay experience.
Platforms: PC
9. Duelyst
Duelyst is a free-to-play online card-based strategy title which features 1v1 matches. In order to win, you've to beat your opponent by reducing his/her health to 0. In order to do so, you've to select cards from your deck (which you keep on building eventually), summon powerful spells/minions or equip your units with deadly gears to outsmart your opponent.
You get the privilege to choose one among the very 6 factions. Each faction has its own unique set of minions along with distinct moves. You will be shocked to know that the game has a file size of only 50 MB.
Platforms: Windows, Mac
10. Expeditions: Conquistador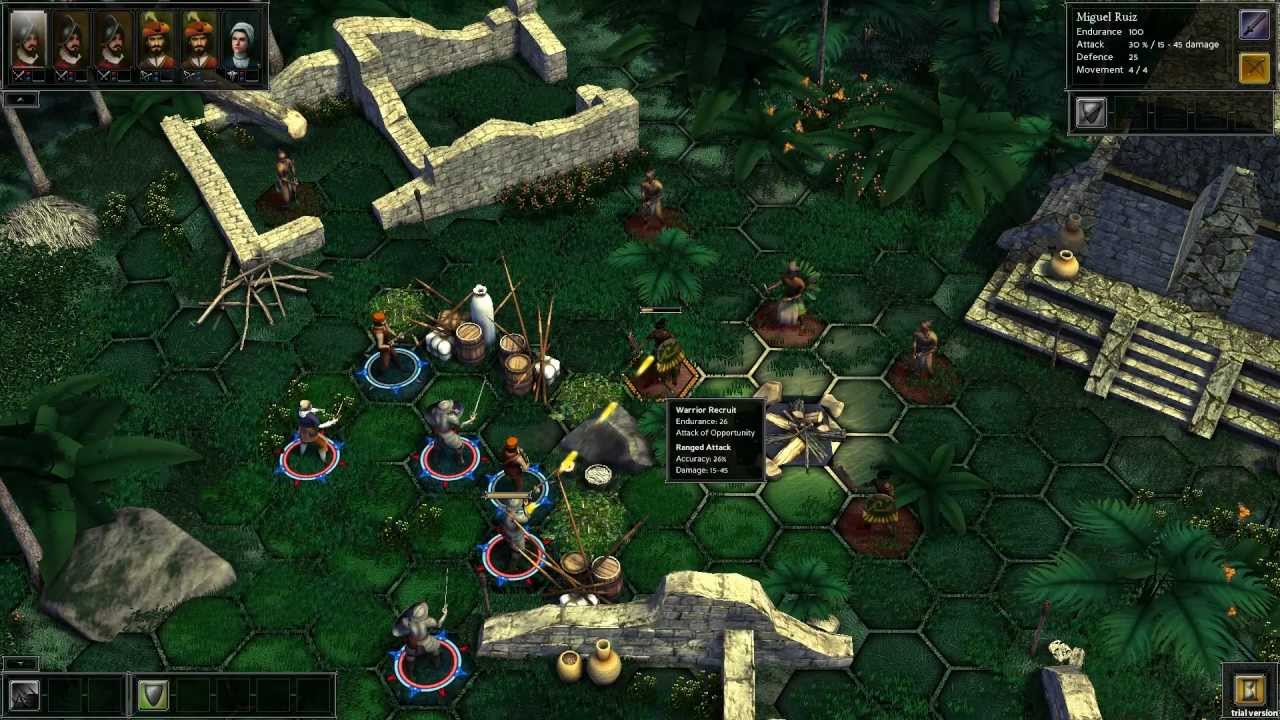 A turn-based tactical role-playing game, Expeditions: Conquistador is the handiwork of Logic Artists, built on Unity Engine. The storyline revolves around a Spanish explorer who recruits a group of mercenaries and support units to carry out his expedition to Mexico and Hispaniola.
You will be creating your own story as you recruit followers. Those basically belong to different character classes like scouts, doctors, scholars, soldiers, etc. Various native classes may aid in your journey too. In-game, you'll be assigned with various dialogue driven quests. So, it's entirely upto you in deciding the appropriate way to complete them.
Judging from it's rich intensive role play elements, Expeditions is one among the best turn-based strategy games ever.
Platforms: Windows, OS X, Linux
11. Satellite Reign
Satellite Reign is a sick looking game that will engage you into its world which exhibits challenging levels and rewards. A sci-fi squad-based tactical similar to XCOM 2, the game is a reboot of the Syndicate series, offering a far more dynamic environment enriched with eye-candy visuals.
If you're an XCOM follower then you might consider adding this to your list of best turn-based strategy games.
Platforms: Windows, OS X, Linux
12. Total War: Warhammer
The tenth title in the franchise, Total War: Warhammer offers similar turn-based tactical gameplay as that of its predecessors. Unlike the rest, Warhammer is set in a fantasy world ruled by five different factions. Those include – The Dwarfs, The Empire of Man, The Vampire Counts, Chaos Warriors and the Greenskins.
From those names, you can probably guess the traits and personalities of each faction. This is the first game in its franchise to offer magic.
Platforms: PC
13. Civilization V
Considered as one among the best turn-based strategy games created ever, Civilization V is a complete masterpiece. You choose a real-world historical leader, be it Shaka from the Zulus or Mahatma Gandhi from India, you'll have fun adhering to the unique skills as well as policies of each race. Remember that there are more ways to achieve victory leaving aside warfare.
You can achieve a diplomatic win or aim for a space victory. There are in fact several more ways too.As hilarious and interesting it sounds, you can even outsmart other civilizations on the basis of technology growth. Try to achieve that and the winning trophy is all yours.
Remember that there are many factors in providing a well being to your people too. Because that's the most important thing about building your empire. Otherwise, more than enough unhappiness can lead to the formation of rebels which may lead to a civil war!
Platforms: Windows, OS X, Linux
14. Endless Legend
Developed by Amplitude Studios and published by Iceberg Interactive, Endless Legend is a 4X strategy game like Civilization 5. However, it's more story driven. In-game you'll be receiving a multiple number of quests from your respective faction.
Completing those quests will surely lead to your victory. Well, this makes it as one among the multiple approaches you can take to win the game. You can raise heroes to motivate and boost the confidence of army units thus imparting them more strength.
The game has gained widespread critical acclaim for its immersive gameplay and visuals. If you're a Civ fan, then do consider giving this game a try.
Platforms: Windows, OS X
15. Civilization: Beyond Earth
All the nations of Earth have achieved their zenith on the basis of technology/science. Hence, there is a scarcity of resources in the planet. In a densely populated world, mankind is starving. The only option for survival is to leave mother earth and explore the space for resources. Because that's our last hope for survival. Civilization: Beyond Earth takes you deeply into to this scenario.
You've to cater to the needs of your race by establishing colonies, collecting resources and building settlements. But remember that you are not alone. There might be dangerous alien species lurking in the shadows or some other civ seeking the opportunity to capture you. Hence, good luck! To infinity and beyond!
Platforms: Windows, OS X, Linux
Hope you enjoyed reading our list of best turn-based strategy games. If you want us to add some more games in the above-mentioned list then please free to share with us in the comments below.
Also Read: