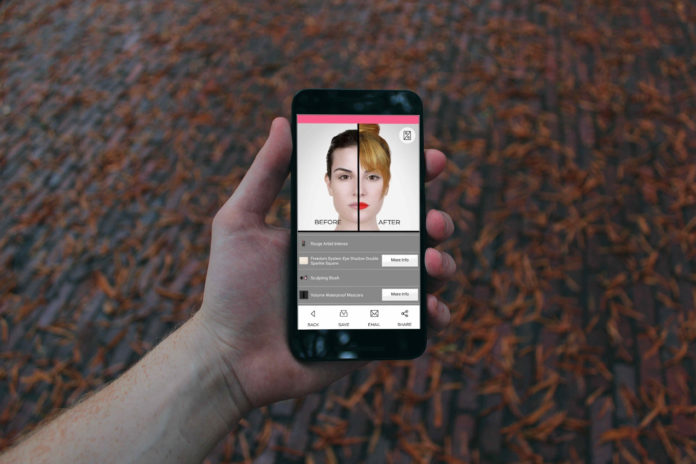 Note
A community-sponsored advertisement-free tech blog. Join the revolution of making the web ad-free by
supporting me
.
Last updated on January 21st, 2018
Undoubtedly, makeup is a necessary amenity to the fairer sex. Not just particularly women but also men. True, that the right amount of makeup makes anybody look beautiful (not always, though!)
I know a lot of makeup lovers. For an expert makeover, now one does not have to rush to the nearest salon or a professional. You just need to utilize one of the makeup apps for Android!

So, here, we have compiled a list of 5 best makeup apps for Android to make things easier for you.
1. Lakme Makeup Pro
This app by Hindustan Unilever Limited can be referred to as your very own makeover app where your front camera acts as your mirror. Virtually, this app teaches everything starting from prepping your skin (for applying makeup) to try each Lakme product on your face. It is one of the most loved makeup apps for Android.
A facility offered by this app is the virtual pro-stylist look which the Lakme style experts recommend. With over 75 pro stylish looks and 100 real time cosmetic shades, this app provides an option to 'buy' the Lakme products as well.
[appbox googleplay com.modiface.lakme.makeuppro]
2. Makeup
Developed by ModiFace, Makeup can be referred to as the most advanced virtual makeover app. It provides state-of-the-art makeup simulation, cosmetics, and resulting makeover effects. You can apply over thousands of makeup colors and shades in a matter of seconds. Not just makeup, accessorizing is an additional feature.
You will find a lot of exciting features while using the app. With over 60 celebrity hairstyles and 20+ celebrity pre-set makeup shades, you can try a lot of experimental looks virtually without the need of taking a makeover risk. There are provisions for drawing with crayons over your picture, try on sunglasses and eye colors and other features.
[appbox googleplay com.modiface.makeup]
3. MakeupPlus – Makeup Camera
This app by Meitu, Inc. takes virtual makeover to yet another level altogether. MakeupPlus allows you to have a complete digital makeover that you have been looking for. Starting from the foundation, lipstick, eyelashes to faux freckles and glitter. Design your signature look with the help of this app easily. It definitely stands as one of the best makeup apps for Android.
The additional features include the ultimate beauty guide, retouching tools, and multi-face recognition technology. With the aid of the ultimate beauty guide, you can learn about a lot of makeup techniques from your favorite makeup artists. And, turn the virtual makeover into reality. Touch ups and retouching tools give you the picture perfect makeover!
[appbox googleplay com.meitu.makeup]
4. YouCam Makeup: Selfie Makeover
Perfect Cam provides this trending virtual makeover app. The selfie camera feature allows you to put stylish makeup on your selfie with editing that includes blushes, lipstick, and eye makeup.  Another exciting feature is live streaming of makeup tutorials and live-chat sessions with the streamers. Especially relevant, lucky beauty tips, horoscope readings and advice from beauty astrologers are also provided by this app.
[appbox googleplay com.cyberlink.youcammakeup]
5. YouCam Nails- Manicure Salons
While we are at it, then why leave the beautification of nails? This app by Perfect Corp is truly your manicure salon.  Now, you can make up your nail styles or pick your favorite one from the one touch nail looks. There are over 65+ colors to paint and over 25 patterns to mix and match from. The beauty cam feature allows you to click the picture of your nails and then decorate accordingly. Click a photo, design, polish and then flaunt.
[appbox googleplay com.perfectcorp.ycn]