Note
A community-sponsored advertisement-free tech blog. Join the revolution of making the web ad-free by
supporting me
.
Last updated on May 6th, 2020
The GTA Online Universe offers a vast array of vehicles. As a matter of fact, it becomes quite difficult for someone, to choose an optimal vehicle to race. Furthermore, it turns out to be more challenging, when budget adds up as another concern. However if by all means, one can explore properly, there are many bang-for-buck cars available in the game.
As per our analysis, we ran across some of the best and fastest cars in GTA 5, available at a reasonable price. Most importantly, not only these vehicles do cost less, but also exhibit stunning looks that might make your day.
Note
You might observe the price differences depending on the discount offers in GTA V online. So, if you find any information in this article which you think is outdated, please let us know in the comments.
Best And Fastest Cars In GTA 5
Note: The cars mentioned below are in no particular order of ranking.
1. Pegassi Vacca
Available for a price tag of $240,000, Pegassi Vacca, is undoubtedly one of the cheapest and best cars in GTA 5. It's vividly designed, engineered for speed, and built optimally, to offer the best traction. The car draws its inspiration from the real world vehicles, namely, Lamborghini Aventador, Gallardo, and McLaren MP4-12C.
With an average speed of 170 km/hr, Pegassi Vacca without any doubt is one amongst the best and fastest cars in GTA 5.
2. Dewbauchee Massacro
Manufactured by Dewbauchee, Massacro Racecar can be purchased for a price of $385,000. Its design depicts a strong resemblance to that of 2nd gen Aston Martin Vanquish. Other than that it loosely draws some inspiration from Ferrari 360, F430, and Berlinetta.
Unlike its original variant, the Massacro Racecar offers better performance in terms of acceleration, handling and drifting. In fact, it can easily outsmart it's closest competitor, Jester Racecar, which costs around $350,000.
If one's looking for cheap cars in GTA Online, then he/she can opt to buy the Massacro Racecar.
3. Banshee 900R
Banshee 900R, a variant of the legendary vehicle, Banshee, is considered as a 'super-car' in GTA Online. Unlike the original vehicle, the 900R's design has been altered to a great extent. The wide-body framework is one of those major changes. The performance improvement can be easily noticed with factors like acceleration and top speed.
The car, when upgraded completely, can produce an average speed in the range of 170 – 180 km/hr. However, one should keep in mind about its low traction, especially during drifts. This vehicle is notably popular, and hence, is one of the cheapest cars in GTA 5, in the super-class category.
Available for a price tag of $565,00, the Bravado Banshee 900R completely deserves to be in our list of best and fastest cars in GTA 5.
4. Pegassi Zentorno
The beauty, Pegassi Zentorno's design has been heavily inspired by Lamborgini Sesto Elemento, and is loosely based on Aventador, as well as Veneno. It can be purchased for a price of $725,000 from Legendary Motorsport.
If one's looking to outsmart beasts like RE-7B, X80 Proto, etc. (the best in GTA Online lineup), at a cheaper price, then one can go for Zentorno.
Its base stats are quite deadly, and hence, don't require much customization, to reach maximum performance. Zentorno, stands out for handling and quick acceleration, at its price range. However, one needs to be quite experienced, to utilize the beast's handling power to its full extent.
5. Annis RE-7B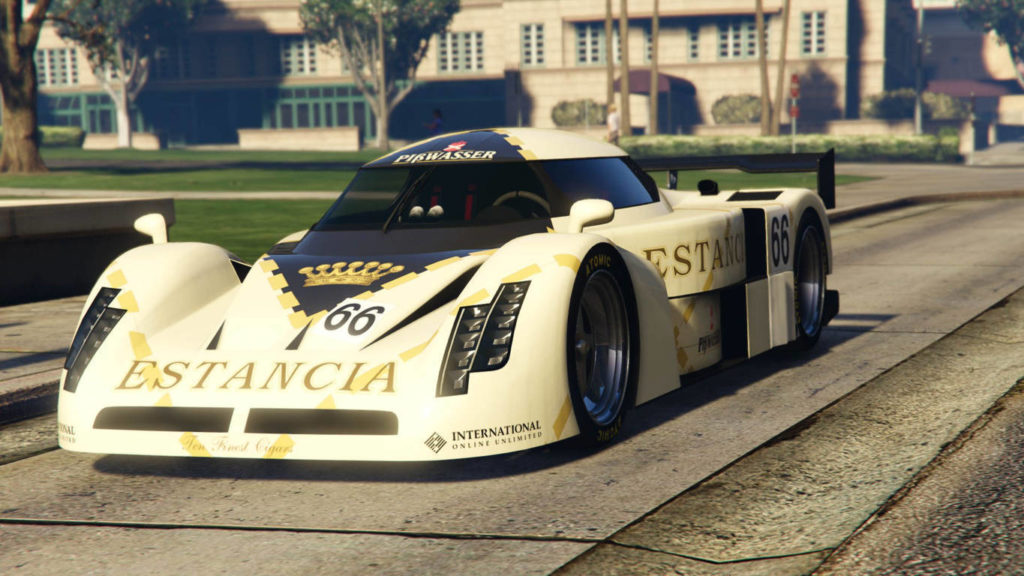 Although this beast is very expensive ($2.475 million), we had to include the RE-7B in the list, as it's undoubtedly, one of the most popular vehicles in GTA Online. A super-car enthusiast can easily co-relate its design with the Nissan R390 GT1 and Mazda 787B.
The RE 7B's design has been specially optimized to offer maximum endurance. Notable for its powerful engine and quick acceleration, it's one of the best and fastest cars in GTA V.
However, it's not recommended for street-races. It has been exclusively made to compete in proper race-tracks.
6. JB 700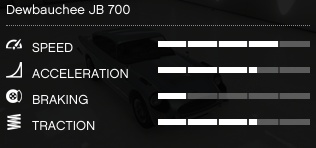 If you are someone who fancies classic cars for racing, then JB 700 is the best you can opt for. Most importantly, it's quite affordable ($350,000), and comes with lucrative add-ons. Those include front mounted semi-automatic guns, an eject-able seat, and a retractable bullet-proof shield.
However, one can only use those functionalities in a few specific missions in GTA V. Nevertheless, there are mods available at your disposal if you want to use them.
The vehicle is notable for its drifting, above average acceleration and astonishing top speed. Without a doubt, the JB 700, is one of the best and cheapest cars in GTA 5, that money can buy.
7. Obey 9F Cabrio
Fans of Audi R8, will definitely love this beauty. Manufactured by Obey, the 9F Cabrio resembles the former vehicle as mentioned earlier. It's very cheap for it's priced at $130,000. The original vehicle, on the other hand, 9F costs 10k USD lesser, as compared to Cabrio.
The 9F Cabrio offers a retractable roof, which is not present in its original variant. Other than that, there's no noticeable difference in performance. Especially relevant, it's really a good bang for buck vehicle in GTA V, that money can buy.
Hence, by all means, the Obey 9F Cabrio is one amongst the best and fastest cars in GTA 5.
8. Annis Elegy RH8
The Elegy RH8, as matter of fact, is available free of cost, for Social Club users. Others can purchase the vehicle for $95,000 in GTA Online. It's probably the cheapest sports car available. Hence, we had to add this vehicle, in our list of best and fastest cars in GTA V.
Most noteworthy, the Elegy RH8's looks have been derived from Nissan GTR (R35) and Skyline. Other than that, the car has a uniform weight distribution and also offers adaptive cornering at harsh weather conditions.
One can expect decent traction and top speed with this beast. Its closest competitors include the Massacro and Jester Racecar. The biggest limitation of the car is its poor braking system.
Rest assured, the Elegy RH8 can be an effective vehicle for a fresh start to your racing journey in GTA Online.
9. Grotti Carbonizarre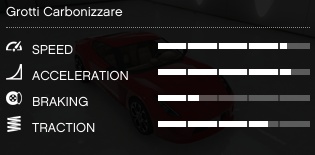 A handiwork of Grotti, Carbonizarre is yet another sports car available at an affordable price. It's priced at $195,000. Hence, if you are looking for cheap fastest cars in GTA 5, then you should give it a shot.
In terms of performance, the beast can go head-on with vehicles like the Massacro and Jester Racecar. Most noteworthy, Carbonizarre offers a very well balanced steer mechanism, with uniform handling.
One can expect decent acceleration, and average clock speeds in the range of 180 – 190 km/hr. Evidently, it's one of the best and fastest cars in GTA 5.
10. Pegassi Infernus
Infernus has been in the GTA family, since Grand Theft Auto III. Hence, it's quite popular among GTA fans, and also one of the best and fastest cars in GTA Online. It can be purchased for a price of $440,000.
The car is notable for its excellent grip system and a high performing engine. However, care must be taken whilst taking corners.
Other than that the car has a poor baking system and has low durability. It's likely to get damaged frequently, with a few collisions. The Infernus can attain an average speed of 190-200 km/hr.
Lap time comparison of a few cars
If you get to know the lap time differences among some of the best cars in GTA 5, you will be able to easily choose the car you want.
Wrapping Up
On a final note, there are a lot many cars to explore in the game. Our list of best and fastest cars in GTA 5, enlists, as mentioned earlier, some of the cheap, fastest and elegant vehicles. If you would like us to add some more cars to the list, do let us know in the comments section.